You are here:
Index

About VirtueScience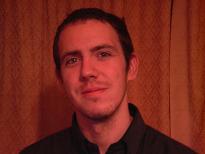 Contact James Barton
James Barton
Hi, I am
James Barton
, the creator of
VirtueScience.com
and author of
"Inner Medicine"
.
I was born on
August the 17th 1976
and live in
Rugby Town
which is in Warwickshire, England. I am the eldest of 3 brothers.
For as long as I can remember I have been interested in looking at things deeply and I continue to study a wide variety of philosophies and ideas from all round the world. My spiritual hero is
Ramana Maharshi
and I also respect many other teachers to varying degrees. I have been a
vegetarian
since I was about 14 years old and I am quite passionate about it.
I value creativity and enjoy coming up with interesting ideas about a range of subjects; some of which can be found on this site. Here is a short
Spiritual Biography
.
Other Facts about James Barton
I worked for a local company building circuit boards etc for 10 years. I am now working in an aluminium foundry.
I make a small additional income from this website through the Google Adsense ads(at the right hand side of this page),
Clickbank
products,
Amazon
and my
UK shop
area. I appreciate the support of my visitors.
I have been interested in
internet marketing
for a while now and am launching
a website designed to help people market their guest articles: GuestGalaxy.com
.
I had a poem published in anthology around 1995 called Star Gazing. My poem was called
Souler Systems
.
I have painted in acrylic an abstract called "
First Awakening
" based on sacred geometry principles and the esoteric anotomy of the microcosm.
I war born in 1976.
My aims include the complete beneficial transformation of the world.
I enjoy eating out in
local resturants
.
I am interested in
Self Defence
I am interested in geopolitics and theories about the future of humankind.
Books that I have Read
A list of some of my favorite bands. (Coming Soon)
A list of some of my favorite films. (Coming Soon)
Other People Named James Barton
I decided to make a list of people who share the James Barton name. This is partly because it may help rank this page higher in the search engines for the JB search.
Meaning of the Name
James: (origin; Hebrew-from Jacob-) Meaning=Supplanter from supplant meaning to take the place of and serve as a substitute for.

Barton: (origin: Sax.) From a town in Lincolnshire, England; a corn town, or barley village, from bere, barley, and ton, an inclosure, a house, a village. Barton, a curtilage. In Devonshire, it is applied to any freehold estate not possessed of manorial privileges. More...
James Barton studied at bourne grammar school. He used to attend casterton college where he recieved The Castle cement award for science.
---
James Barton, Actor : Born November 01, 1890 - Gloucester City, NJ. One of the "grand old men" of vaudeville and burlesque, James Barton was the type of performer who could split your sides with a well-timed punchline, then seconds later break your heart with a plaintive rendition of "You Made Me Love You.".
---
James Peter Barton was born on 28th August 1968, in Liverpool he is a resident DJ at Cream. A regular behind the decks at Cream ten years ago, these days James Barton jets around the globe organising the world's best dance festivals under the Creamfields banner.
This website gives a bio and more details
.
---
Jim Barton: TiVo Co-Founder, CTO and Senior Vice President.
---
James Levi Barton (1855-1936) The Reverend James L. Barton wrote extensively about the philosophical and theological problems with Islam, and served as the Foreign Secretary of the American Board of Commissioners for Foreign Missions.
This website has more details and a link to articles by J.L.B
---
James Barton, eleventh recipient of the 2003 Perelberg Award since its inception in 1993. Scotch College, Australia.
www.scotch.vic.edu.au...
---
James Edwin Barton born April 7, 1947
---
James Barton from Chicago.
---
If your name is
James Barton
and would like to be included in this list then
let me know
.